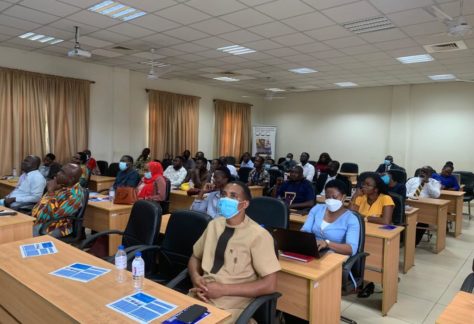 The Accra branch of the Ghana National Chamber of Commerce & Industry partnered with cyber security experts, e-Crime Bureau to equip Businesses in readiness for the fight against Cyber criminals.
The One-Day Training Workshop was held on Thursday 30th June, 2022 at the University of Ghana Business School in Accra. About 60 Participants attended the workshop. Participants were drawn from various sectors of the economy; Hotel & Hospitality, Manufacturing, Pharmaceutical, Import & Exports, Construction, Energy, etc.
In his Opening remarks, the Accra Regional Vice Chairman-Mr. Imran Shams Kwakye bemoaned the increase in cybercrimes especially targeted at businesses. He stated that,2021 financial report from the Bank of Ghana revealed a combined financial loss of about GHC 28 Million arising from a surge in Mobile money fraud, E-Money losses and other Impersonation cases. With businesses recovering from the effects of COVID-19, it is therefore imperative to protect businesses from further setback.
The Lead Consultant for Cybercrimes at the E-crime Bureau, Mr. Joseph Quaye took participants through the various risks associated with working in the digital space. He touched on the various threats including Ransomware, Business Email compromise, Malware, Phishing, Hacking, etc. Participants were taken through steps to counter cyber- attacks which included; conducting IT risk assessment, incident response, tools & applications Industry best practices and Techniques.
The workshop was very interactive, with participants trying their hands on several tools & applications and Industry best practices and techniques.
The workshop was very interactive, with participants trying their hands on several tools and real -life businesses cases.
At the end of the workshop, Participants were full of praise for the awareness, in-depth knowledge and skills gained. They recommended that the Chamber repeats the workshop as often as possible to protect themselves and their businesses.
The Accra Regional Manager for the Chamber, Mr. Daniel Osei Torgbor expressed his gratitude to the team from e-crime Bureau and the staff and Executives of the Chamber for organizing the workshop and urged them to go out there and be trainers in their various institutions and families, helping to secure and protect precious information and finances. He assured them of the Chamber's continuous support in providing services such as these and many more to protect and promote the best interest of its membership.
E-Crime Bureau is a member of the Ghana National Chamber of Commerce & Industry and can be reached on Tel:+233(0302)960397/0207131646 or via Email: info@e-crimebureau.com or website: https://e-crimebureau.com