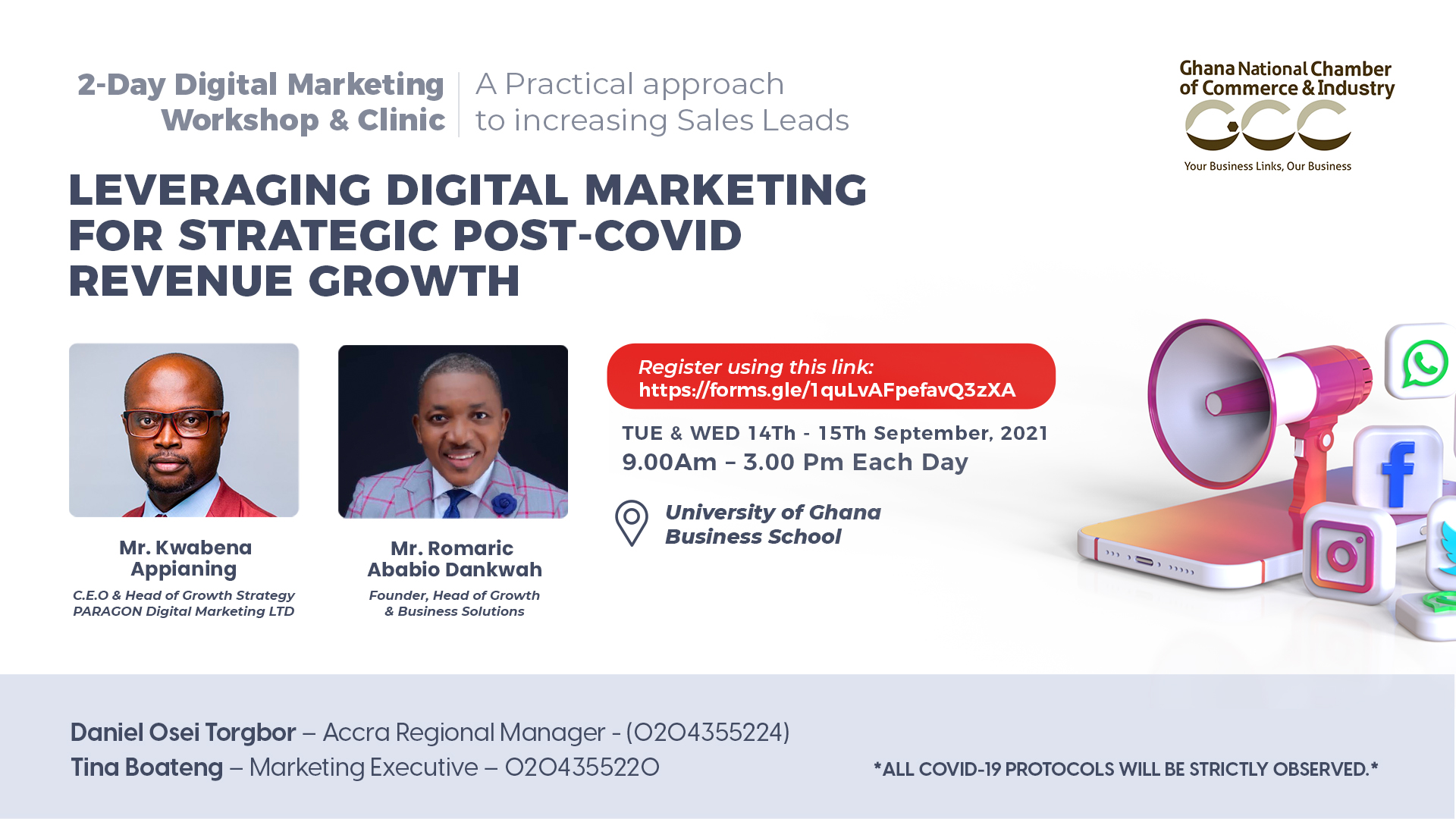 2-DAY DIGITAL MARKETING WORKSHOP & CLINIC
A Practical approach to increasing Sales Leads
"Leveraging Digital Marketing for Strategic Post-COVID Revenue Growth"
Do you want to boost your Social Media Presence
Do you want to direct huge traffic to your brand?
How about tripling your Sales Leads & Competing with the Best?
Are you well prepared for AfCFTA with its 1.3 Billion Market access/ Trading Online?
Then Register and join us for this 2-Day Digital Marketing Workshop & Clinic.
The way we do business has drastically changed; Customers no longer chase products, it is rather the products that must now find a way to reach Customers at the fastest rate.
Never have businesses had such instant access to millions of consumers within minutes. Businesses can now drive traffic to their brands very easily and cost efficiently.
On Google alone, People make about 5.6 billion searches per day. As at January 2021, there were 15.7 million internet users, 8.2 million social media users and 41.69 million mobile connections in Ghana alone. We are living in an era where businesses can have access to millions of prospective customers within an hour. So the problem now is not about the traffic but converting that traffic into actual sales.
RESOURCE PERSONS
1. Kwabena Appianing 2. Mr. Romaric Ababio Dankwah
CEO & Head of Growth Strategy Founder, Head of Growth & Business Solutions
PARAGON Digital Marketing
Please contact any of the Regional Chambers or any of the following for further information;
Call Now to Register – 0204355224/ 0204355220 / 0204355234 /0501260139
Follow this link to register: https://forms.gle/1quLvAFpefavQ3zXA
ALL COVID-19 PROTOCOLS WILL BE STRICTLY OBSERVED.