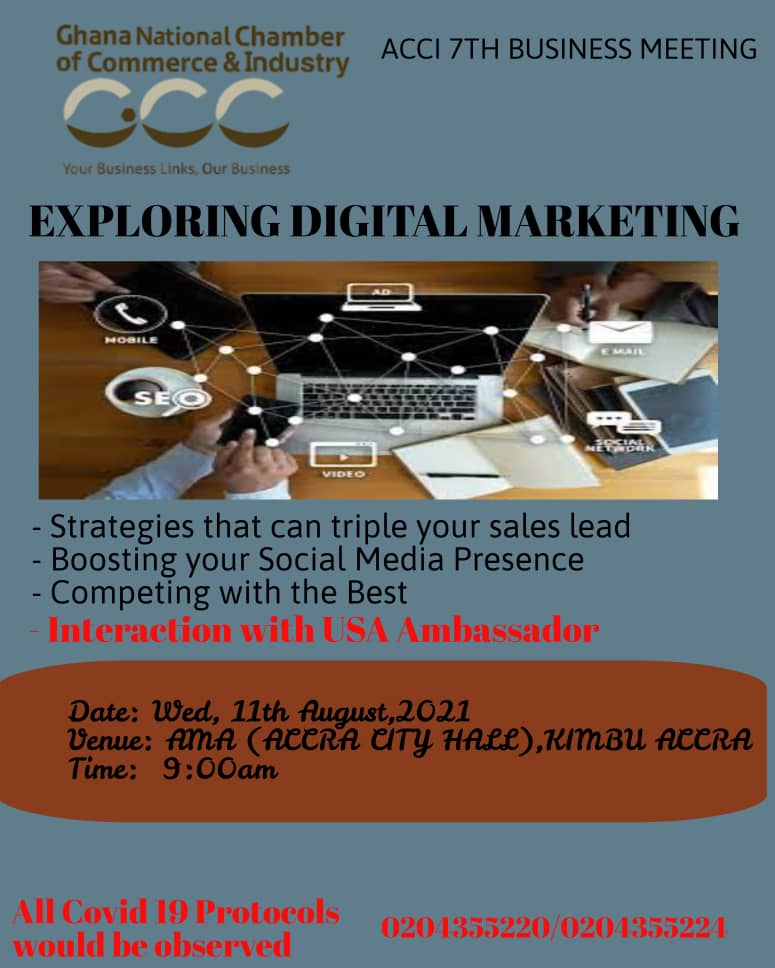 INVITATION TO ACCI 6TH BUSINESS MEETING OF 2021
EXPLORING DIGITAL MARKETING
The Ghana National Chamber of Commerce & Industry – Accra Branch presents its compliments and invites you to its 6th Business Meeting of the Year (August Meeting).
A lot has changed very quickly within the past couple of years especially coming off the back of the COVID-19 Pandemic. The way we do business has drastically transformed; for example Customers no longer chase products it is rather the products that must now find a way to reach Customers and not just reach them but reach very FAST and beat others to it.
The internet has made the world smaller leaving the Customer spoilt for choice with so many options available at super-sonic speed delivery.
The emergence of AfCFTA even makes it critical; an open market with about 1.3 Billion customers. What then is your Strategy, how do you compete?
Join us to explore these together and prepare ourselves for the Exclusive 2-Day Digital Marketing Workshop & Clinic in September.
The meeting is scheduled as follows:
Date  :  Wednesday 11th August, 2021
Venue:  Accra Metropolitan Assembly (Accra City Hall) near The Octagon – Kimbu
Time  :  9.00 am
(Due to our meeting with the US Ambassador, the meeting will start exactly at 9.30 and then at 11am we project the Ambassador via zoom for members in the Hall to interact with her.)
All COVID-19 Protocols will be STRICTLY ADHERED.