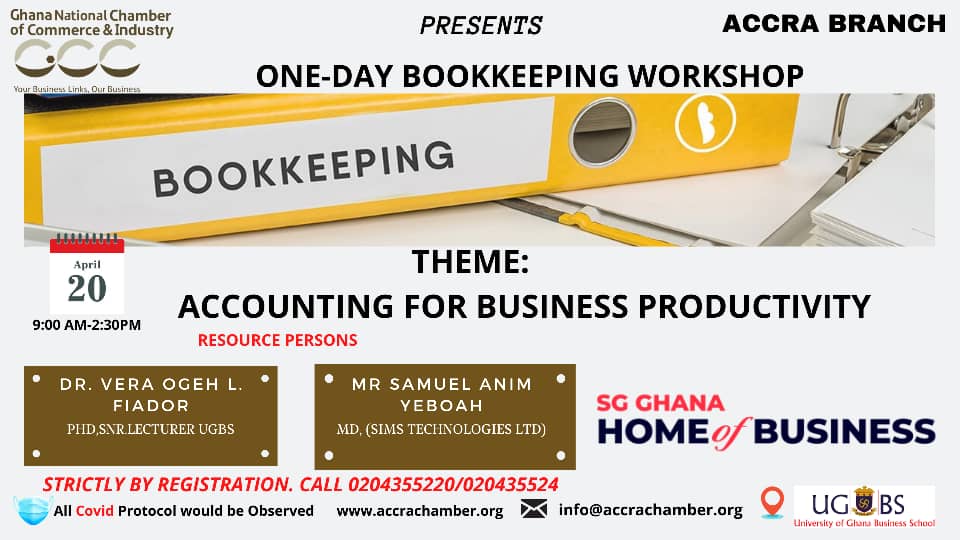 ONE-DAY WORKSHOP ON BOOKKEEPING
Statistics in Ghana has over the years revealed the huge significant value of SMEs to our GDP and the economy as a whole. However, it is also evident that a vast majority of these SMEs fail to be competitive and others fail within the first few months of operation.
This Workshop will equip these Entrepreneurs and Business Owners with the skills of Proper Bookkeeping and provide them with hands-on experience and the requisite tools to practice fully.
Participants will also be introduced to the use of software that can help them perfume these functions more effectively & efficiently. They will also be enlightened on Strategic Management
Techniques that will breathe life into their businesses. Participants will also be entitled to Post-Workshop follow-up or mentoring to help them practice what they have studied.
All Participants will be provided Breakfast, Lunch and Certificates and course materials.
The Resource Persons include;
Dr. Vera Ogeh L. Fiador – (PHD, Snr Lecturer UG Business Sch./CEO at Madeolo Consult)
Mr. Samuel Anim Yeboah – (MD SIMS Technologies Ltd)
SG Home of Business Team
The Workshop is scheduled as follows;
Date  : Tuesday 20th April, 2021
Venue: UNIVERSITY OF GHANA GRADUATE BUSINESS SCHOOL
Time  : 9:00am – 2.30 pm
STRICTLY BY REGISTRATION!! CALL 0204355220 / 0204355224
ALL COVID-19 PROTOCOLS WILL BE STRICTLY ADHERED